High School Homeschool Curriculum: What We Use
So many people give up on homeschooling when it comes to high school, but there's no need to get intimidated. Home is still a great place to give our students a quality classical education, as long as we provide them with the supports they need to finish well.
You can homeschool high school classically. I'll share what we have used and also resources to help you figure out a plan that will work for your family.
Honestly, I love this stage. When I am sitting on the couch listening to my 5-year-old sound out words, I remind myself: It's ok. We have to do this now so that later we can talk about Beowulf and diagram sentences.
First, let me say: If you have a seventh grader (i.e. a 12-year-old) and you're despairing that he (usually he) will ever be independent or motivated or trustworthy, let me tell you: hang in there, stick it out, hold the line – it will happen. Don't give up. It will pay off.
I believe the tears sown in the middle school years are reaped as fruit in the high school years. The self-management and independence and work ethic issues we worked out when our sons were 11-13, and they set their hands to the plow for high school to finish well of their own accord.
You can do it!
Table of Contents
Three Things to Remember When Homeschooling High School
It's hard to believe that we're well into the high school years with multiple children.
In many ways it was not different; we just took the next step. We didn't drastically change anything about the workload or the process or the system. His level of work did increase, but it was simply another incremental increase in work of the same kind, not a completely different experience.
Shakespeare might not have said it, but it's still true:
Expectation is the root of all heartache.
After all, the thought is similar to James 4:1-3:
What causes quarrels and what causes fights among you? Is it not this, that your passions are at war within you? You desire and do not have, so you murder. You covet and cannot obtain, so you fight and quarrel. You do not have, because you do not ask. You ask and do not receive, because you ask wrongly, to spend it on your passions.

(ESV)
James might seem extreme, whereas the expectations quote appears like the tame version, but when we desire something and do not have it, we start quarrels.
When our children desire and do not have, they start fights.
For both parent and child, our passions – our desires, our pleasure, our will – are at war inside us, causing us to feel conflicted, anxious, and uncertain. Then, because of this internal struggle and war, we are unstable and lash out.
Remember: Your high schooler is a young adult.
Our society today treats teens as large children, when we should be treating them as young adults. Often, though, when we do try to treat them as young adults, we do so by expecting too much.
So before we start thinking about what our high schoolers "should" be doing – that is, what we desire for them – we need to examine our own desires and experience.
You're an adult. You have duties. How do you feel about them? How long have you been working on accepting and performing your duties cheerfully and willingly? 

Your teen has just begun that journey.
Whereas toddlers and children obey their parents as practice for obeying God, the law, and their conscience, teens must practice discerning what is right and reasonable for themselves, and then acting accordingly, instead of relying on parental edicts for every occasion.
So give them work that must be done sometime in the week, but don't micromanage every step and dictate all their work happen on your schedule.
Yes, it will mean more conversations and coaching. Yes, it will mean privileges will be lost more frequently because the work will not always be done. Yes, it will mean they will experiment with bizarre and inefficient study plans.
During those experiments and experiences perhaps even more important learning than the math or science lesson is happening. Add it to your curriculum objectives and take a deep breath.
Remember: Your high schooler needs accountability.
However, not micromanaging does not mean removing the support of accountability.
Make sure that at least once a week, your eyes land on every piece of work they're supposed to have done. If you don't value it enough to make time to check it, they will not value it enough to do it. Then, halfway through the year there will be hell to pay. It happens – a lot. You don't need to give it a grade, but you do need to see that it was done satisfactorily every week.
It is important to understand something of the dynamics of self-discipline. Self-discipline is easily acquired by first coming under the discipline of someone else.

– R.C. Sproul, Knowing Scripture
Our job is not to dictate what they do when, but our job is to provide the basic structure they need to do what they are supposed to do: we provide the books, the standards, and the accountability.
Remember: Your high schooler is a person.
None of us like feeling that we're in a grind and simply part of the machinery. Sometimes adults have given in and accepted that as how life feels, but teens have enough energy and hormones to resist. They have not yet given up on the idea that life is interesting and meant to be enjoyed.
As parents, we shouldn't try to contradict or argue with that base assumption, even when we disagree with the way it might be expressed.
Are we demonstrating with our own lives that life is interesting and meant to be enjoyed? Is it not? Do we communicate that duties and responsibilities keep one down and the best life is carefree? Have we lost our interest in the world and in growing? If so, we are not giving our teens a hopeful, attractive picture of adult life."Life is a continual progress to a child. He does not go over old things in old ways; his joy is to go on." – Charlotte Mason
There will be days when schoolwork is a drag and just something they do to be done and move on with life. Just like some days we fold laundry or do the dishes just because we must even though we'd rather not and we perhaps even grumble through it.
However, school work should carry the potential for interest and enjoyment – not with superficially fun activities or unrelated rewards, but in its own right. Do they see progress in their work? Are the patterns of their work the same patterns of self-learning they'll need as adults or are they artificial? Do the books communicate a dull, trudging attitude or an attitude of lively curiosity?
We prevent the work from being a dull grind by continuing with living books, by continuing with work touched by their personality (note-taking, paper-writing, sketching, not fill-in-the-blank or multiple choice), and by continuing with relatively short lessons so they don't get bogged down and feeling helpless and hopeless.
Just because the typical teen attends school for most of the day and then has hours of homework does not mean we need to load our teens up with work to fill their day.
They are young adults. They are people. They should have interests, hobbies, and a life outside school work. Homeschooling allows them this freedom, and we should not steal it from them.
Ninth & Tenth Grade Homeschool Curriculum
Choose the tab to explore that year's homeschool plan:
Return to the homeschool plan selections.
Several of my lesson plans, including those for The Riot and the Dance (without experiments) are available in my subscriber resource vault:
High School Curriculum Reviews by Subject
We also supplement with Khan Academy as needed for extra tutoring or clarification on concepts they have a hard time with.
Basic Christian Living
Two-Year Systematic Theology Study
American & Modern World History
Church History:
Two-Year Modernity History Curriculum
Plutarch
Early Modern Literature
My oldest in ninth grade and my second in seventh both were in a literature class I taught with 5 other friends of theirs. In addition to the reading and discussion, they wrote one literary analysis paper for each book and we learned revision and stylistic techniques along the way.
We followed a few themes throughout each book, but we also followed the theme of friendship in all of them.
by John Bunyan, adapted by C.J. Lovik
Yes, we read an adaption of Pilgrim's Progress. Because this class had both middle and high school students, not all of whom had strong reading backgrounds, I opted for a shorter, clearer version. Throw your tomatoes; I deserve them. On the other hand, if you want an adaption, I do recommend this one.
by Charles Dickens
Like his wordiness or not, everyone should get a taste of Dickens and his stereotyped-for-a-reason characters. Sometimes the dialect makes it harder to follow; if so, I recommended students listen to the audiobook version while following along with the book.
by Jane Austen
Emma is not my favorite Austen, by far, but I thought it'd be a good fit for this age group – Emma being one of the most juvenile of Austen's characters. It is also the perfect pick for discussing the theme of friendship, as we did. I was disappointed that most of the students had a hard time following the story because they did not understand Austen's irony.
by Mark Twain
If ever there was a classic story of friendship, Huck Finn takes the cake. For those who have a hard time reading the dialect, I again recommend listening to the audio while following along. Audible's version read by Elijah Wood is fantastic.
Shakespeare
We continue to read and enjoy Shakespeare following my five step plan, even into high school, although our discussions get better and better. We generally do 3 plays a year, partially determined by what is being performed locally. By the end of tenth grade, my goal is for my student to be familiar with all Shakespeare's major plays at least.
Sign up and get instant access to all the Shakespeare memory sheets and lesson plans I've created to date.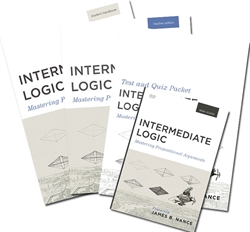 Intermediate Logic
by Jim Nance, published by Canon Press
We used the full video curriculum for this one and my oldest thoroughly enjoyed it. He did Introductory Logic in the same series in eighth grade, and ate up this program in ninth. My second son, on the other hand, was less enthusiastic and less into the abstract reasoning, so we dropped it for him.
My oldest then took Logic at the community college and found that he'd already covered most of the material from this program. He didn't mind the review or the easy A.
Economics in One Easy Lesson
by Henry Hazlitt
German
Take our recommendations with a grain of salt. We never got far in the languages, but my oldest did spend two years studying German using:
Latin
by Dwane Thomas, published by Roman Roads Media
My second son had completed Latin for Children A & B by 6th grade and then took an unsuccessful diversion into Spanish in 7th & 8th. For 9th grade, he returned to Latin and completed Visual Latin, volumes 1-2 in a single year, on the promise that he'd not have to do a language in 10th grade.
He enjoyed Visual Latin and did, indeed, laugh in Latin class, though quietly.
Great Courses.
We've gotten our audible credit's worth from this one.
Each week, my ninth graders listen to one lecture, then briefly narrate to me what it was about.
Each of my high school boys picked 5 books they have chosen for themselves to recommend here. For the most part, they have free access to the library, purchase their own books, and read adult books. They read a lot, and I am not cataloguing everything they've read, but these have been some standouts for them:
If you need more guidance about the requirements for homeschooling high school through graduation, Pam Barnhill and Heather Woodie have an excellent workshop on planning high school. It's included in the Plan Your Year Course.
Dual-Enrollment for High School
Our state has a program whereby high school junior and seniors can attend the community college as dual enrollment students, and it's our plan to take advantage of that program. Both my husband and I graduated high school with an AA through our local community college, and it was a good experience for us both.
In a way, our homeschool has proved itself when my oldest took the entrance test for the community college. He passed the test and is objectively verified for college-level studies. He reads. He has his own opinions and articulates them (this is what makes teens obnoxious but it's actually good). He's responsible and capable.
Eleventh Grade Dual Enrollment Plan
My oldest son is no longer my education experiment. He has passed all his mother's criteria and the state's for starting college. Using our state's Running Start program which allows high school students to earn college credit in high school. My husband and I both used this program and graduated high school with an AA degree.
He passed the test to enter the program with flying colors and begins his first college quarter with English 101, Psych 100, and Math 142 (Pre-Calculus II).
To his mild chagrin, I have not deemed it seemly or wise that he be footloose and fancy-free until the community college's start date of September 16.
On his own, he's participating in The Bible Reading Challenge – I printed him a colored version of the men's plan. Bible reading isn't really schoolwork, though; it's just living.
Homeschool High School: Philosophy
For the 8 weeks or so of our school calendar before his classes begin, he has a short checklist with 20 minutes of Khan Academy math and weekly reading assignments in "Philosophy":
He will finish all three books before he starts CBC. I'm not assigning any work beyond reading. He has a reading journal. He knows how to commonplace and has a place for such things. He knows how to take notes and has a place for such things. He can choose to do what he will with these readings (his plan is to do nothing; I shrugged and told him that was his choice). On Fridays we'll have coffee and discuss for 30 minutes or so.
Homeschool High School: Theology
I will continue to assign theology readings as he studies at the community college, because he certainly won't get it there and it is, after all, the queen of the sciences (and humanities).
He'll be two years at the community college, two years more at home, and over the course of those two years, we will read and discuss Calvin's Institutes of the Christian Religion.
Twenty pages a day, or five pages for four days, will get us there, and while the content and thought is dense, the style is not. With the right translator (Ford Lewis Battles – not the Victorian Beveridge), Calvin retains the lucidity he was known for in his day (though that was in Latin and French).
He's assigned to take notes and commonplace from his reading of Calvin – and I'm following the assignments as well. On some yet-to-be-determined regular appointment, we will discuss the assigned readings with the others who are following the same plan (his 9th grade brother, a 10th grade friend on our street, plus the moms).
Homeschool High School: Dual Enrollment
We don't know what dual enrollment will look like in the day to day yet. I suspect he will choose to do his homework at the college campus and not at home, but he has a shelf for his books and supplies.
He has a full-size Arc binder to use for notes and a half-size one with an academic planner inside. He has pencils and pens.
He does not have a phone or his own computer, though we have two family computers available (and my husband and I each have our own laptop). We'll see what changes when we experience the reality, but so far we're sticking to no personal internet devices for as long as possible. And it's still very much possible, though inconvenient to him.
Homeschooling High School: Mom as Cheerleader, not Teacher
Just as our teens are learning about themselves and becoming more invested in the direction of their own lives, so we as mothers during this phase must pay attention and learn about ourselves, allowing them to grow in responsibility while recognizing our own responsibility as well.
Personally, I am very pleased with this new stage. I get to doff the mantle of taskmaster and don the role of cheerleader and support.
So here are three things I think we as homeschooling mothers can do to help our teens make the transition to personal responsibility while still holding them accountable.
Give Ownership to the Student in High School
Passing on the ownership of their education is not something that happens overnight and it's not something that happens without mess ups. They do not wake up the first day of their freshman year ready, willing, and able to make important decisions about what to study and about how to make sure their work is done on time. Yet it is our goal to get them there by the time they leave our homeschool.
Just like you expect an infant to fall many times as he learns to walk, so expect your high schooler to plan poorly, to argue, to whine, to fail. Just like the toddler learns to get up and try again, so must our teens learn that same lesson.
When they mess up their plan, when they ignore their work and try to get out of it (when, not if), when they are sloppy, when they blame their failings on you, it doesn't mean they aren't ready to take ownership any more than a toddler's fall means he isn't ready to walk. It's all part of the process of learning. We learn better when we work through the consequences of our choices.
We must remember that as mothers, both for ourselves and for our teens. Are some of our choices backfiring on us? We need to stand, take responsibility, and move forward to fix it. Are our teens choices backfiring on them? We need to stand, hold the line, and make them take responsibility and move forward to fix it.
Make sure they have interests and hobbies to pursue, something compelling them to get outside, to create, to expand their skills and knowledge.
Hold Your High School Homeschool Student Accountable
Giving our teens ownership is not the same thing as pushing them into the deep end and letting them flounder.
We don't give them independence and responsibility so as to make our job easier. That's not the point. If it is our primary purpose, the problem is with us, not them – which we must remember when the house of cards collapses.
The student has true ownership and true responsibility, but not sole ownership or autonomy. We, as the parents, still bear responsibility for their education and must hold them accountable to their work – whether it be work we gave them, work they volunteered for, or work assigned by an outside teacher.
That means we must continually pay attention to their work, even if we delegate much of it.
This doesn't have to mean we are constantly playing school police, although sometimes it might feel like it. When we ask to see work, when we listen to narrations, when we give feedback on papers, when we ask questions, we are demonstrating that we care.
If we want our child to care, we must care enough ourselves to follow through. We can delegate the planning, we can delegate the work, but we cannot delegate the caring.
When the going gets tough – as it should in high school – the fact that he knows you care will be a brace to help him stick to it. If he must rely only on his own caring, he will interpret that to mean it depends on how he feels – and I speak from the experience of being the high school student here. There will be days he doesn't feel like it, when it seems like it doesn't matter. If he believes that doing his work is entirely up to him, there will be days when he simply does not do it – and he will have a multitude of reasons.
We need to be there, ready to help him through that point. We, also, know that feeling and give into it too much. There are days I do not do what is on my list and although I have reasons, they are bad reasons.
When we give our high schoolers accountability and catch such days and help them through them, we are not only making sure the work is done, we are helping to prevent a habit of excuses from forming.
Don't Overschedule Your High Schooler
Of course, sometimes there are reasons to not get to the checklist that are valid – as we will, as mothers – personally attest. Things come up that get in the way, that derail us, and that require a shift in priorities.
If we want their work to be reliable, however, we have to ensure they have reliable time reserved for the work we are requiring.
It's easy and tempting to steal their time for our purposes, to tell them that most high schoolers don't have free time either, to discount their down time. But connections and thinking happen in the down time and we don't want teens like "most high schoolers" – and that needs to be reflected in how they spend their time.
It does get harder. They do have more work. There will be resistance to overcome. There will be more homework, more deadlines, more activity.
But let us ensure they're not staying up late for homework. Let's make sure they have time to hang out with friends outside of organized activities. Let's make sure they have a hobby or two that they still have time for – maybe not every day, but most days.
As they begin learning about and transitioning into adulthood, we can think about what a balanced adult life looks like and make sure we aren't encouraging or building bad habits from the start: Do we want men who think it's normal to bring work home and spend the evening finishing his work? Do we want women so preoccupied with pleasing others' expectations that they can't simply enjoy themselves? Do we want adults without hobbies, adults without attention to the world around them, adults with no idea how to manage free time?
School will take more of our high schooler's time, and they will have more outside obligations as well. But we need to refrain from overcommitting them. We need to hold back our panic that we have so little time left with them. We should not make them bear our guilt for what we haven't done yet.
We need to guard their time as we would guard our own.
After all, free time is the best motivator I have found for diligent work. If there is no hope for time to do what they want, our teens – and ourselves – are prone to dawdle, procrastinate, and meander. We need to have a reason to work well and with attention – not just for a certain result in the work, but for a certain hope for our time.
When our kids hit high school, suddenly everything seems more high stakes. Our time is short, our choices more influential than ever. Although that can paralyze us, we mustn't let our anxiety smother our teens.
Really, all three tips come down to realizing our teens are young adults and treating them as such. We know the temptations of adulthood – we deal with them every day. Our job is to not let them flounder in the deep end of those temptations, but give them direction and guidance and structure as they gain experience and skill in navigating responsibility.
Make smart changes for the school year.